Online Maths Tuition - UK Curriculum, KS3, GCSE.
My name is Simon Chester, and I am a qualified maths teacher. I can offer online tuition in maths at secondary school level, years 7 to 11. It is all one to one tuition so it can be matched to the requirements of the individual child, whether it is exam revision for GCSE or ongoing support in the lower years.
The tuition is provided over Zoom, using whiteboard/presentation software that is screen shared. The sessions are generally one hour long, although this could be changed to suit individual requirements.
I usually prepare something on a specific topic, by request. We could work through exam questions or papers, if we are doing exam revision. I stress that it is tailored around the student, so tell me what you want to do.
The price is £24 per one hour session.
I can offer a 15 minute sample session for free.

Contact
Please contact me if you want to find out more and discuss your requirements.
Telephone: 07940 797432 (or Whatsapp +447940797432)
Email: simon@chestysoft.com
Background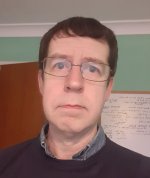 I trained as a maths teacher, qualifying in 1995, although this has not been my work for most of my life. In my earlier years I worked in engineering as a draughtsman and CAD operator, with a break enforced by redundancy. It was during this break that I retrained as teacher but found that it was easier to get work as a new graduate than it was to become employed as a maths teacher. For more than 20 years I have been writing computer software, which I still do. My time is now split between software development and maths tuition.
In autumn 2021 I started online tuition with a large provider, who I will not name here. I have enjoyed the teaching, but also discovered a lot of limitations in online tuition when a third party is involved.
I have a solid background in maths with an A Level in Further Maths, and I also took the Open University Maths Foundation course during my return to education. My science is good, with a Physics A Level and I taught Materials Science for a while to adult students in further education.
My degree is in Mathematical Education, from St. Martin's College, Lancaster.
I have a DBS certificate and copies of this, and my teaching qualification, are available on request.
I live in Scarborough, North Yorkshire.